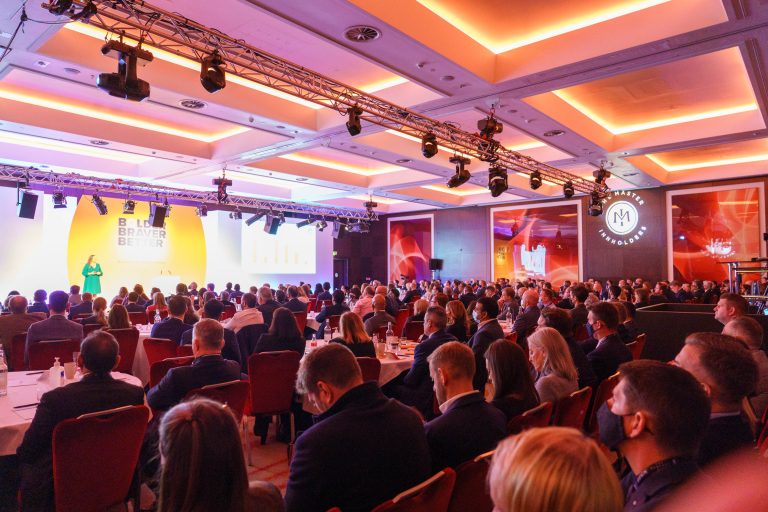 More than 400 hoteliers and industry leaders came out in force to attend the 28th Hotel Leadership Conference, where they gained the impetus to make bolder, braver and better decisions for themselves and their businesses.    
The sell-out two-day conference, presented by The Master Innholders, took place at Park Plaza London Riverbank on 17-18 January where expert speakers covering a range of topics – from technology and asset management, to sustainability and diversity – inspired and educated delegates.    
Enhanced safety measures were introduced to allow the event to proceed in a secure way while delivering its aim of bringing the industry together when they needed it most.   
The first day concluded with a gala dinner, featuring a captivating Japanese-themed menu prepared by Park Plaza's executive chef Werner Seebach, and celebrating the induction of 16 new Master Innholders.  
Generous purchases of tickets for the evening's charity raffle raised an incredible £4,000 for the Master Innholders Charitable Trust, Hospitality Action, and Springboard.   
Team focus
The conference programme, created by conference chair James B Clarke FIH MI, general manager Hilton London Bankside, opened with a motivational presentation by author and coach James Kerr who drew on the success of New Zealand's rugby team the All Blacks to demonstrate how hoteliers can lead their own teams to success.   
Explaining how the team's core values – humility, excellence and respect – were the backbone to their success, he challenged the industry to adopt them to bring out the best in their own people.   
The key to attracting and retaining employees – and therefore building successful teams – is to focus on diversity and inclusion, said Joanna Aunon, director of WiHTL, who urged the industry to prioritise inclusivity.   
This sentiment was echoed by Asif Sadiq, senior vice president at WarnerMedia for equity and inclusion, who pushed the narrative further, suggesting there were moral and business cases for encouraging a diverse and inclusive workforce where everyone felt they belonged.   
He said employers should make it give every member of their team a 'sense of belonging' to improve personal and business achievement.    
Sustainability NOW
With consciousness around sustainability at an all-time high, there was a key focus on bolder responsibility with top tips shared by experts to guide hoteliers towards making changes.   
Ben Wielgus, head of sustainability at Informa, urged hoteliers to update their references to sustainability and remove the outdated term 'corporate responsibility' from all marketing materials as it no longer represented the status quo.  
He said customer expectations were changing with more of them willing to pay more for sustainable products, so now was the time to be brave, carry out a 'top-to-tail review' of their sustainable actions and implement new ones.  
Sustainability strategy adviser Sue Garrard told hoteliers that ignoring sustainability was not an option and warned them that inaction would lead to government taxation, potential staff shortages or revolts as well as accelerated global warming.  
"We have to remember that we can't run a business on a dead planet," she said.   
Garrard said adopting the long-term multi-stakeholder model for the business, engaging the whole workforce and understanding the customer would enable change to be enacted.   
The packed conference programme also included sessions on sales from Laughs Last founder Marcus Cauchi, technology from Florian Montag of apaleo and Edward Bracken of The Hoteliers' Charter.   
To further support hoteliers for the year ahead, there were updates and forecasts from UKHospitality chief executive Kate Nicholls OBE and Sarah Duignan of STR while Tim Stoyle of Savills examined the key challenges and considerations hoteliers would need to make in asset management.  
 The event concluded with a rousing keynote from author and behaviourist Jez Rose who introduced hoteliers to his Seasonal Change Model and explored aspects of human behaviour before imploring delegates to embrace change and see its potential.  
Innovation and inspiration
David Morgan-Hewitt FIH MI, chairman of The Master Innholders, said: "We in our industry have certainly learned how to adapt over the last two years.  Our industry is one of innovation, inspiration and true unadulterated hospitality and we should be proud of our success.  
"The Hotel Leadership Conference provides a chance to be inspired and educated while spending valuable time with our industry peers. These two days have enabled us to move forward together and come back bolder, better and braver than ever."   
James B Clarke, conference chair, said: "It was fantastic to see so many industry colleagues come together for two spectacular days of engaging presentations and talks as well as have the chance to network face-to-face once again. I'm thrilled we've had the chance to reconvene once again as an industry and show the world that we are hospitality and we mean business.   
"Thank you everyone who attended and all our supporters and sponsors who have enabled this event to happen."   
Dates are soon to be announced for the Hotel Leadership Conference 2023. For updates and to register your interest in attending, visit https://masterinnholders.co.uk/hotel-leadership-conference-2022/